In Memory of Richard Edward Miles
August 12, 1946 – July 30, 2010
Dear Daddy,
The other day, when I drove your car back to the apartment, the song on your mp3 player was Jim Croce's Rapid Roy Stockcar Boy. Hard to get my mind around the idea that this was the last song you listened to before you left this earth.
I'm writing this letter to say the things I didn't have a chance to say: even though I believe you knew them, and still do, wherever you are.
My Dad, above all, was a man I admired.
Things I remember: you believed in the importance of enjoying life. I remember Christmas when I was six or seven years old: the night before, Richie and I could hear "buzz buzz buzz" for a long time, and we couldn't figure out what it was. Turned out you were playing with the toy x-wing fighter that I unwrapped the next morning. Even up to the last days of your life, you laughed, made funny jokes; made the people around you happy.
Fred Harrison Miles, taken in 1940. Grandaddy was captured on Java by the Japanese in March 1942 and spent all of World War II as a prisoner of war in Japan. Fred Miles died in 1974.
Amy Reese Miles. My grandmother died of leukemia when my dad was only 12 years old.
You taught me to love. You married your high school sweetheart at 18 years old, and the two of you stuck together through good times and bad, for forty-five years. In a time when most marriages last less than five years, I held your own example in my mind during the hard times, and getting through those hard times made my own marriage and family life more rewarding and valuable than I ever could have imagined.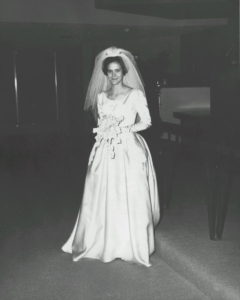 November 5, 1965
You taught me the importance of service to our country and community. To this day your uniform from the United States Marine Corps hangs in your closet, and your quiet pride in your own service in Vietnam was an example for me. I never knew much about your experiences in Vietnam until I came home from the Gulf War, and when I did come home you hugged me and your acceptance helped bring me back to earth.
Even with that pride, I remember when I realized that I wasn't prepared to kill again, and I decided to apply for conscientious objector status with the army. You didn't become angry or judgmental: instead, you hugged me, said you were proud of me and stood by me. I'll forever be grateful for your support and love.
I will forever prize the moment on Christmas day fifteen year ago, when I gave you the shadowbox with your own medals, mine and grandaddy's together, and your eyes went red with tears of pride.
I loved your enthusiasm for technology, which I've always shared. The last day we spent together, you were so excited about your new car and the fact that you could tell it by voice to play specific songs when you were driving. You taught me to program computers when I was twelve and I didn't even own a computer, and awakened a talent and skill and hobby that has latest life long.
You gave me my love for good stories and books, and I'll forever remember talking books and authors with you, sharing the storytellers we both loved. It meant a great deal to me that you loved the stories I wrote.
You taught me to stay calm and rational when people around me were falling apart, and to have the courage to say what needed to be said when something needed to be fixed.
I remember your wicked sense of humor, your laugh, and your sometimes irreverent take on life. I remember how you held my baby daughter in your arms when we brought her home. And your kind and thoughtful words of understanding when I needed it.
Through my life you gave me the room to make my own mistakes, and when I fell down you often picked me up and dusted me off again and set me back on the road.
I love you, Daddy, and I'll miss you so much.
I wasn't prepared for this in any kind of way.  It was too sudden, too unexpected, and it's going to take some time to really process. I wish I had an opportunity to tell you these thing in person. I wish I had an opportunity to say goodbye.
My life won't be the same without you here.  But I also know that almost everything about me that I consider to be good, I learned from you. If anyone were to ask me who my hero was, the answer was simple: it was my dad. You were humble, believed in doing the right thing, treated everybody around you with respect and decency, and … well… you were my Dad.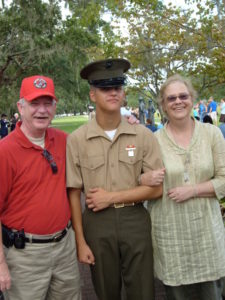 Mom and Dad with Chris Miles at his graduation from boot camp.